2016's Most Acclaimed Romanian Films at the 60th BFI London Film Festival
06 - 16/10/2016 @ Various London cinemas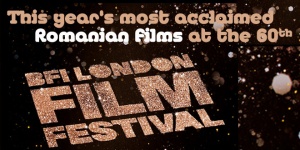 The BFI London Film Festival will be rolling out the red carpet for Romanian cinema in style: the most acclaimed Romanian directors of the moment will premiere their recent films in Britain's grandest cinematic showcase.
As our collaboration with the British Film Institute (BFI) hits the seven-year mark, we take this opportunity to shine a spotlight on three amazing new productions, 'Sieranevada' by Cristi Puiu, 'Graduation' by Cristian Mungiu and 'Scarred Hearts' by Radu Jude. The screenings come after their previous efforts, no less praised by the public and critics alike, have been included in our 'Revolution in Realism. The New Romanian Cinema' season, the greatest retrospective of Romanian film in the UK, which took place at the BFI throughout this June.
Don't miss the Q&A sessions with Cristian Mungiu and Radu Jude, organised with the support of the Romanian Cultural Institute.
'Sieranevada'
Cristi Puiu's magisterial chamber-work takes a funny, touching, insightful look at family life in today's Romania, affected both by tradition and the troubled modern world.
"Cristi Puiu's remarkable new feature confirms him as one of the world's most distinctive and rewarding filmmakers. Darkly comic and utterly credible, it begins with a bickering couple chaotically setting off for a family gathering; only later do we learn the precise purpose of the lunch, which is repeatedly postponed by no-show guests, unexpected arrivals, certain requisite rituals and – perhaps inevitable, given the crowded apartment that's the setting for most of the film - arguments, both personal and political, about Romania's past and the world's more recent troubles. With its subtly shifting alliances, intimacies, tensions and resentments, it's a wonderfully perceptive and honest portrait of an extended family, written, performed and directed with unflashy brilliance; seldom has so much movement within a single cramped location been so expertly choreographed. Funny, touching, insightful on a great many levels, Puiu's radical account of cinematic realism makes for marvellous viewing." - Geoff Andrew
Sieranevada
Thursday 06 October, 20:00: Vue West End Cinema, Screen 7
Sieranevada
Friday 07 October, 14:15: Vue West End Cinema, Screen 5
'Graduation' ('Bacalaureat')
Graduation is a richly crafted family drama, about a father's temptation to involve his daughter in moral compromise, that resonates long after you've seen it.
"A richly crafted, satisfying family drama, Graduation resonates long after you've seen it. Grey-haired doctor Romeo Aldea (Adrian Titieni) has his regular life disrupted by violent incidents. First a rock is thrown through his apartment window. Then his daughter Eliza (Maria-Victoria Drăgus), who is due to take her final school exams, is assaulted and her writing arm is sprained. After her first paper goes badly, Romeo must consider making the kind of phone calls that contradict the belief in honesty he and his wife Magda (Lia Bugnar) passed on to Eliza. Amping up the intrigue are Romeo's lover Sandra (Mălina Manovici) – a schoolteacher and single mum; a convict on the loose; Eliza's motorbike-riding boyfriend; a local mayor who owes Romeo a favour; and a pragmatic policeman friend. Director Cristian Mungiu deservedly shared the Best Director prize in Cannes for this elegant-but-gritty slice of Romanian middle-class life." - Nick James
Graduation (Bacalaureat)
Saturday 08 October, 13:30: Curzon Mayfair Cinema, Screen 1
Graduation (Bacalaureat)
Sunday 09 October, 20:30: Curzon Soho Cinema, Screen 1
'Scarred Hearts' ('Inimi cicatrizate')
Radu Jude's portrait of a young writer confined to a Romanian sanatorium in the late 1930s is a poignant triumph.
"After his brilliant Aferim! (LFF2015) Radu Jude delves again into the past: a Romanian sanatorium by the Black Sea in the late 1930s. It's here that Emanuel (Lucian Teodor Rus), a young Jewish man with ambitions to write, is checked in to treat his bone tuberculosis. Strapped into a bed – Teodor Rus is wonderfully expressive despite lying horizontal for much of the movie – Emanuel reflects on his illness, discusses the troubled times with his fellow patients and falls for the beautiful Solange (Ivana Mladenovic´). Based on Max Blecher's semi-autobiographical novel, Scarred Hearts is a deeply compassionate film about enduring chronic illness (complete with forensic recreations of the baroque procedures of pre-war medicine). But alongside its melancholic exploration of mortality, it abounds with wit and romantic longing, and emerges as a rich celebration of lusty resilience in the face of sickness. Shot with exquisite restraint, the film confirms Jude as one of European cinema's most distinctive voices." - Edward Lawrenson
Scarred Hearts
Friday 14 October, 20:30: Curzon Soho Cinema, Screen 1
Scarred Hearts
Sunday 16 October, 17:00: Curzon Mayfair Cinema, Screen 1
The programme also includes the German/Austrian/Romanian coproduction Toni Erdmann by Maren Ade, the Cannes hit and German Oscar candidate, filmed mainly in Bucharest.
The 60th BFI London Film Festival will take place 5-16 October 2016.