20/20, by director Geanina Cărbunariu, the first Romanian performance at the London International Festival of Theatre in this century
04 - 06/07/2012 @ The Platform Theatre, Granary Building London, Handyside Street N1C 4AA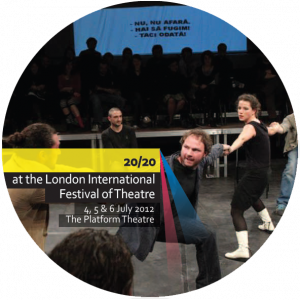 The first Romanian performance at the London International Festival of Theatre (LIFT FESTIVAL) in this century is director and playwright Gianina Cărbunariu's 20/20. Played by five Romanian and five Hungarian young actors, 20/20 is a multi-lingual production investigating, not without humor, the expressions of violent nationalism, prejudice, distrust and alienation that plagued the first years of post-Communist Romania and still lace many of the global conflicts of today.
The title 20/20 does not only refer to the 20th of March 1990, the date of Romanian-Hungarian clashes, and the twenty years that have passed since then. In ophthalmology, 20/20 points out to a superlative sharpness of vision.
Impeccable acting, very fine and precise directing … 20/20 exudes a remarkably strong message about the human need for love.
(Kalina Stefanova, Korean Theatre Magazine)
The very essence of fear… charged with explosions of laughter.
(LIK magazine, Bulgaria)
Gianina Cărbunariu's 20/20 won the Special Award of the Jury at the National Theatre Festival from Pecs and the Rivalda Award from Thalia Theatre from Budapest, Hungary and the Award of the International Theatre Critics Association from Romania (2010).
The performance is produced by the Yorick Studio in Târgu Mureş & dramAcum in Bucharest. It is presented in London by LIFT and the Romanian Cultural Institute with support from the Hungarian Cultural Centre as part of LIFT Festival 2012.
Gianina Cărbunariu (b.1977) participated in numerous festivals, writing and directing workshops in Romania, Poland, Germany, Ireland. Bulgaria, France, Macedonia etc. In 2004 she undertook a residency at Royal Court London. Some of her most renowned works are: "Sado Maso Blues Bar", "Terrorism", "mady-baby.edu", "Stop the Tempo".
Cast: Sebestyén Aba, Bányai Kelemen Barna, Gabriel Iacoban, Paula Gherghe, Mădălina Ghiţescu, Berekméri Katalin, Tompa Klára, Radu András Korpos, Rolando Matsangos, Cristina Toma
When: 4, 5, 6 July 2012 7.30pm
Where: Platform Theatre, Handyside Street N1C 4AA
Tickets £15 (10 concession). Buy tickets online from the LIFT Festival website or call for booking at: 020 71 54 83 80 or 020 71 54 83 81!
105 min / no interval