Maxim(um) Enescu
01/06/2017 @ Romanian Cultural Institute, 1 Belgrave Square, London SW1X 8PH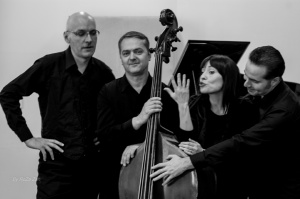 In June, the guest ensemble of our beloved "Enescu Concerts" Series is the amazing Maxim Quartet, an ensemble much revered for its disciplined pathos and daring repertoire. In 1 Belgrave Square, their choice of programme, served by an unusual combination of piano, flute, accordion and double bass, reads like a brilliant rush through 100 years of great music and includes works by Igor Stravinski, Aleksander Glazunov, Gabriel Fauré, Paul Constantinescu, Tiberiu Olah, Dan Dediu and of course George Enescu.
The Maxim Quartet are: Horia Maxim – piano, Mihaela Anica – flute, Fernando Mihalache – accordion and Săndel Smărăndescu – double bass.
Programme:
Amilcare Ponchielli: Danza delle Ore (The Dace of the Hours)
Aleksander Glazunov: Scénes de Ballet (1. Pas d'Action 2. Marionete 3. Vals)
Gabriel Fauré: Le Pas Espagnol (Dolly Suite)
Tiberiu Olah: Andante
Dan Dediu: Rondo alla Münchhausen and Balkan Tango with Walking Bass
Johnny Răducanu: Jocul ţambalelor (The Game of Cymbaloms)
Eugen Doga: Vals
Igor Stravinski: Tango
George Enescu: Ballade
Paul Constantinescu: Joc dobrogean (Folk Dance from Dobrogea)
Established in 2011, the Maxim Quartet brings together, in a novel instrumental setup, some of the finest musicians of the Romanian classical scene - Horia Maxim (piano), Mihaela Anica (flute), Fernando Mihalache (accordion) and Săndel Smărăndescu (double bass). Since their debut concert in April 2012 at the Radio Hall in Bucharest, thanks to an original and varied repertoire, Maxim Quartet has become a darling of Romanian audiences. They have participated in numerous musical events at home and abroad, including renown festivals like "Festspiele Europäische Wochen Passau" (Passau), "George Enescu" International Festival (Bucharest) and "The Israel Festival" (Jerusalem). The leader of the ensemble, Horia Maxim, is hailed as one of the best Romanian pianists today, with an intense concert activity, both in Romania and abroad. A greatly talented musician, flutist Mihaela Anica has acquired an extensive artistic experience in France and Austria, where she has been performing for the past fifteen years. Fernando Mihalache is one of Romania's few classical accordionists while double bass player Săndel Smărăndescu can claim an impressive experience both in symphonic (as part of both the "George Enescu" Philharmonic and the Osaka Symphony Orchestra) and chamber music.
When: Thursday, 1 June 2017 from 19:00 to 21:00
Where: Romanian Cultural Institute - 1 Belgrave Square London SW1X 8PH
Entrance is free but it is required to book your ticket on Eventbrite.
Please note that the seating is unreserved.