Clare Inskip: A Visual Love Letter to Transylvania
03 - 06/11/2015 @ Romanian Cultural Institute London, 1 Belgrave Square, SW1X 8PH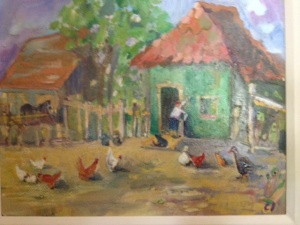 We are delighted to present Clare Inskip's "Transylvanian Landscape", an exhibition of oil and watercolour paintings depicting the unique, unspoiled charm of Romanian rural universe, as well as remarkable sculptures representing the countryside life. The exhibition is complemented by a talk given by reputed botanist and conservationist John Akeroyd. The event is part of a series that explores the Romanian historical and natural patrimony through the works of British visual artists, writers and scholars.
Exhibition
When: 3-6 November, from 9:00 - 17:00
Where: Romanian Cultural Institute London, 1 Belgrave Square, SW1X 8PH
John Akeroyd Event
When: 4 November, from 12:00. For more information, click here: http://us8.campaign-archive1.com/?u=5dee8f09d1c4c55cc8c1e734d&id=cfbf1e3d2b&e
Where: Romanian Cultural Institute London, 1 Belgrave Square, SW1X 8PH
Clare Inskip is a British artist whose works have been shown at The Mall Galleries, Brillscote Gallery, The Lennox Gallery and the London Art Fair. Clare lives in Wiltshire at Manor Farm, and during the year she takes small painting groups away to Romania amongst other places. Her paintings are all painted on the spot. She captures the feeling of the subject, the colours, and the excitement of the moment in time. When in Romania, Clare loves staying in the remote villages and observing and painting the old traditions, the hay making, the cows on the common land, the farmyards full of wonderful geese, hens and horses and the wild flower meadows and spending time with the unspoilt and special village people and landscape.
Dr John Akeroyd is a botanical consultant to ADEPT Foundation, a charity working to protect the nature-rich, farmed landscapes of Transylvania and supporting the small-scale farming communities that have created them over centuries and who maintain them. He has visited Romania regularly since 2000, and is now a leading proponent of how holistic conservation, centred on farming communities and combining tradition with innovation, can help to protect Transylvania, one of Europe's most significant cultural landscapes. Dr Akeroyd has carried out student teaching and lecturing in many European countries, and has extensive knowledge of the flora of Greece, Balkans and Romania, Poland, Ireland and Britain. He was Member of Flora Europaea Editorial Committee (1988–1998) and is author of numerous scientific and popular publications.