Blouses in Bloom in the Open House
16 - 17/09/2017 @ Romanian Cultural Institute London, 1 Belgrave Square, SW1X 8PH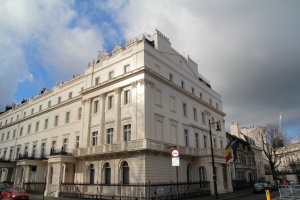 For our 7th participation at the Open House Weekend, we blend classical architecture with traditional textile design and photography as we ornate the majestic interiors of our Belgravian palace with the 'Blouses in Bloom'/'Flori de ie' exhibition, an amazing display of old Romanian traditional costumes accompanied by photograph Alexandru Emanuel Zainea and actress Laura Cosoi's ingenious take on this fabulous adornments. Guest speakers: Cristina Chiriac, the 'Blouses in Bloom' exhibition creator and actor Kamil Lemieszewski. In the presence of photographer Alexandru Zainea and film-maker Chriss Casper.
The exhibition is part of the 'Centennial Romania' project, initiated by Flori de IE/ Blouses in Bloom and Alexandru Zainea, in partnership with the Centenary Department at the Romanian Ministry of Culture.
Guided tours provided.
Our building on 1 Belgrave Square
Built in the 1820's by Thomas Cubitt, Belgravia is one of the most beautiful areas of Central London. Our house has a rich history, and it was acquired by the Romanian government before WWII, functioning as embassy, ambassadorial residence or cultural institute ever since.
Grade I listed by the English Heritage for its exceptional architecture, the building's elegant halls, old furniture and paintings by great Romanian artists have been of great interest for tourists and for those who want to learn more about the insights of the British capital's architecture.
With a PhD in Economics, Cristina Chiriac was the general director of World Trade Center Bucharest as well as the president of the Romanian Association of Entrepreneurs. In 2010, the European Commission awarded her the title of Ambassador of the European Network of Female Entrepreneurship, acknowledging her support for entrepreneurship in Romania. She is currently supporting several charity projects and, in 2014, she founded Flori de IE /Blouses in Bloom, a brand that promotes Romanian textile traditions.
Alexandru Emanuel Zainea is a Romanian photographer based in London. His photographies have featured in famous magazines like "Vogue", "Harper's Bazaar", "Powerful USA", "FabUK, Shape Mag", "Cosmopolitan", "NewYorkMagazine" . Emanuel Zainea is member of the New York Institute of Photography.
Kamil Lemieszewski is a Polish actor and model currently based in London. He studied acting at the Polish Film School. He has been working on a number of media projects around the world from Finland and Poland to Russia, Mongolia, Arabia, New Israel and the UK. Kamil is attached to various international festivals in Poland as well as the "Incubator of Art".
Flori de IE/ Blouses in Bloom is a Romanian brand which promotes Romanian traditional textile craftsmanship. All vintage and new pieces are made exclusively by hand, in communities where the old techniques and aesthetics are still alive. The brand encourages entrepreneurship in rural villages and is active in all regions of Romania.
Chriss Casper is an independent music & video producer born in Bucharest. From fashion to commercials and music videos, he has worked on various projects and promotes Romania's image through his work. The latest song promoting Bucharest, which made it in the USA on the Angels Baseball Stadium, is Lil'Paris. Chriss is also the producer of the promo film for the 'Centennial Romania' project.
When: 16 & 17 September 2017, 11am-6pm. Exhibition guided tours at 12.00, 14.00 & 16.00
Where: Romanian Cultural Institute, 1 Belgrave Square, London SW1X 8PH
Free entry.