Trafalgar Square, In Pan Flute Tones
01/04/2016 @ St Martin-in-the-Fields, Trafalgar Square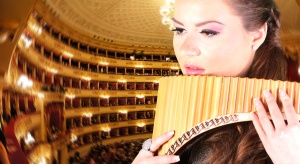 Dashing Pan flute musician Mariana Preda joins forces with the British organist Donald MacKenzie for an afternoon of sound marvels in one of the most beautiful churches in London. The programme features works by Handel, Albinoni, Telemann as well as the immortal 'Ave Maria' by Bach.
Mariana Preda is a Romanian pan flute performer based in Amsterdam, the Netherlands. She started singing at the age of six and continued her music education throughout her childhood at Doamna Bălaşa School in Bucharest. Her education was enriched by famous pan flute musicians like Gheorghe Zamfir and Damian Drăghici, who coached Mariana towards her path as a professional musician. Until now she has won numerous music awards and has released two albums, entitled 'Luna' and 'Sunrise'. In November 2015 Mariana was the Romanian Ambassador for the Amsterdam Light Festival. She is currently studying at the Amsterdam University of the Arts.
Donald MacKenzie was born in Ayrshire, Scotland. He began his musical studies very early and, after learning to play the piano and classical organ, he received his first engagement as the resident organist to the Glasgow Garden Festival. In July 1992 the organist began his long association with the Odeon Leicester Square Compton organ, by playing it for a number of events. He has broadcast from the Odeon on BBC Radios 2, 3, 4 and the World Service and has played for numerous Royal Film Performances, including four in the presence of Her Majesty the Queen. His overseas concert appearances have included Poland, USA, Holland and Germany.
When: Friday, 1 April, 1pm
Where: St Martin-in-the-Fields, Trafalgar Square, London
This lunchtime concert is free and no ticket is required.