Alina Șerban's 'I Declare at My Own Risk' opens our in-house theatrical series
24/03/2016 @ Romanian Cultural Institute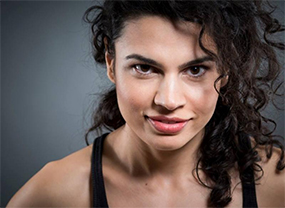 Our most recent programme, a series of chamber performances to unfold in the theatrical space set up at the Institute, debuts with Alina Șerban's illuminating and highly acclaimed examination of conflicting identities, social discrimination, and the redemptive force of self-expression. The performance, inspired by the autobiographical story of the actress, a Romanian from the Roma minority, follows the dilemmas, challenges and revelations that accompany a girl from a poverty-stricken Roma community in Bucharest on her sinuous way to social emancipation as a performer trained in some of the best artistic schools in the world.
The show is presented on the occasion of the International Day for the Elimination of Racial Discrimination.
The show is performed in English.
'I Declare at My Own Risk' has been widely performed across Europe in countries including Romania, Hungary, Italy and France, and has gathered considerable critical acclaim. In the UK, the play was performed at the Royal Academy of Dramatic Art – RADA Festival in 2013 and was subsequently offered a development workshop at Oval House Theatre and a short performance run at Tara Arts in 2014. Hobo Theatre Company will present a full production of the play in autumn 2016. Supported by Tara Arts and Arts Council England.
"Very occasionally I come across someone who is like a rising star, a force that is bright, unstoppable and has an impact on anyone who sees it. I saw Alina Şerban's one-woman-show in Bucharest and it was amusing, concise, and unsentimental. It felt authentic and it avoids moralizing about the rights and wrongs of the Roma situation." (Rupert Wolfe-Murray, Huffington Post)
"A troubling metaphor for all forgotten children" (Judith Sibony, Le Monde)
'I Declare at My Own Risk' - scratch performance
The autobiographical story of Alina Șerban's journey from a 'gypsy ghetto' in Bucharest, to the Romanian social assistance system and, ultimately, to New York and London to pursue her education and tell her story on stage.
By and with Alina Şerban
Directed by: Jamie Harper
Design by: Moi Tan
Light design by: Janne Simila
Alina Şerban is a graduate of the Royal Academy of Dramatic Art in London (MA Theatre Lab programme), Tisch School of the Arts at New York University (Open Arts programme) and the National University of Theatre and Film in Bucharest. Alina Şerban's life experiences as a Roma woman motivated her to start a platform promoting the expression of Roma voices and histories. Her latest project, "The Untold Stories", intended for international audiences, is an endeavour aiming at making visible Roma culture and history, through different cultural tools. In February 2016, Alina Şerban has published an on-line Collection of Roma Fairy Tales. In addition, she has written and staged the performance entitled "The Great Shame", focused on 500 years of Roma slavery in Romania. Recent acting and devising credits include: "Roma-Sapiens" which premiered last autumn in Berlin, "Writer – Performance" for the Stockholm Literature Festival, "The House Project" and "The Sun That Casts No Shadows" for The Brighton Laboratory; "Turfed" for the London International Festival of Theatre; "The Last Enemy" for the BBC. She is one of four practitioners chosen to have an ongoing artistic residency with London International Theatre Festival. Alina Şerban has also written "Home", a play about immigrants in the UK which won "Stories of London" Rich Mix's competition.
Jamie Harper studied English Literature at the University of Sheffield and trained on the Directors' Course at London Academy of Music and Dramatic Art (LAMDA). His directing credits include 'The Hundred We Are' (Hobo Theatre at The Yard); 'Archipelago' (Hobo Theatre at Camden People's Theatre); 'Hunger' (Hobo Theatre at E5 Bakehouse); 'Heaven in Berlin' (Hobo Theatre at Testbed1); 'The Return of Colmcille' (Derry, UK City of Culture Festival); 'La Turista: Cafe Duende' (Hobo Theatre at Morito Tapas); 'Roundabout' (Hobo Theatre at The Bush); 'The Wolf' (Network Theatre); 'Invasion!' (Tooting Arts Club - Time Out Critics' Choice); 'Our Town' (Rose Theatre, Kingston); 'Beyond the Pale' (Southwark Playhouse); 'A Real Humane Person Who Cares and All That' (Arcola) and 'Invisible Storms' (Cock Tavern - Time Out Critics' Choice) amongst others. In addition to his directing work he has taught acting and text at LAMDA, East 15, Central School of Speech and Drama, the Arts Educational School, London South Bank University and Kingston University. Awards include the Northern Ireland Arts Council Tyrone Guthrie Bursary, the JMK Directors' Award, the National Theatre Cohen Bursary for which he was Resident Director at the National Theatre Studio and a Winston Churchill Trust Travelling Fellowship to research game design at the University of Miami. He has recently participated in Zecora Ura's 2015 DRIFT International Residency for interactive media artists.
When: Thursday, 24 March 2016, 7pm
Where: Romanian Cultural Institute - 1 Belgrave Square London SW1X 8PH
Free entrance. Please book your ticket on Eventbrite.
Please note that the seating is unreserved.
In the press:
CEEL
, 31 March 2016