Romanian Artists for a Living Museum
20 - 21/02/2016 @ Tate Liverpool Museum, Albert Dock, Liverpool Waterfront, L3 4BB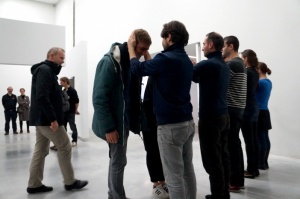 It's 2053. All of the artworks in Tate Liverpool's 'Imagined Museum' have vanished and are replaced by a 'living museum', that is, an army of people assembled to preserve the memory of the objects that were once on display. This is the extraordinary conclusion of the special exhibition, An Imagined Museum: works from the Centre Pompidou, Tate and MMK collections, which recreates the aura of the artworks now gone through a wide variety of performances including dance, song and spoken word.
2053: A Living Museum, also featuring Romanian artists Alexandra Pirici, Manuel Pelmuş, Rolando Matsangos and Farid Fairuz, draws on Ray Bradbury's famous book, 'Fahrenheit 451' (1953), where the characters become a living library of banned books to preserve their content for future generations.
Starting at 10.00 on Saturday 20 February 2016, after the exhibition 'An Imagined Museum' has been closed for four days, each of the vanished artworks will be remembered by a special performance involving artists alongside a host of curators, art historians, artists, students, community groups and members of the public.
The project is organised by Tate Liverpool Museum and supported by the Creative Europe programme of the European Union, Institut Français du Royaume Uni, the German Federal Foreign Office, Goethe-Institut London and the Romanian Cultural Institute in London.
When: Sat & Sun, 20 & 21 February 2016, 10am-5pm
Where: Tate Liverpool, Albert Dock, Liverpool Waterfront, L3 4BB
Free entry. No booking required.