THE MOROMETES 60: The World According To Moromete
20/06/2015 @ Leicester Square Theatre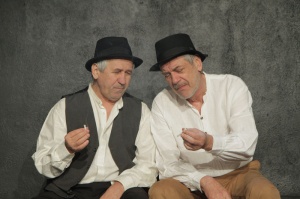 In a tour de force of dramatic flair and supreme acting skills, legendary stage and film actors Marcel Iureș ('Mission: Impossible', 'Hart's War', 'Pirates of the Caribbean') and George Mihăiță ('Reconstruction', 'The Silent Wedding'), under the accalimed direction of Alexandru Dabija, revive the colourful world of the Morometes from the homonymous novel by Marin Preda in a theatrical production imbibed in the ancestral wit, mischievous humour and ultimately tragic outlook of the archetypal Romanian peasant. The play depicts shrewd Moromote, the patriarch of the clan, engaged in a hilarious exchange with his best friend as they question the social and political mores of a world gone astray.
This is a production of ACT Theatre in Bucharest, presented in London by the Romanian Cultural Institute.
This performance is part of 'The Morometes 60: The Jubilee of a Masterpiece', a celebratory programme that revisits the interplaying worlds of Marin Preda and his memorable characters through film, theatre, photography, and talks.

Păi... despre ce vorbim noi aici, domnule? / The World According to Moromete
Written by Cătălin Ștefănescu, after Marin Preda's novel 'The Morometes'

Cast:
Moromete – Marcel Iureș
Cocoșilă – George Mihăiță

Directed by Alexandru Dabija
Sound by: Ovidiu Păcurar
Music by: Răzvan Mirică

Duration: 75min (no interval)

Performed in Romanian with English sur-titles.
'I don't really know how it is to speak about peasants in a world that still has its country houses running. I don't really know how it is to be a great writer when your books are studied in schools. Or when your fellow authors nominate you for the Nobel Prize. Every culture has its artists, as well as its favourite dishes. I am afraid of peasants and of the contemporary Romanian playwriting. On the other hand, I've always wanted to see a show with peasants at ACT Theatre. And here it is! And I'm very glad. I'm glad for Cătălin Ștefănescu's play, for Marin Preda's fabulous novel, for the wonderful actors George and Marcel. That's how we are: we're glad for all the foolish things in the world!' - Alexandru Dabija
Legendary theatre and film actor Marcel Iureş has gained international success starring alongside George Clooney, Nicole Kidman, Bruce Willis, Colin Farrell or Johnny Depp in productions such as 'The Peacemaker', 'Hart's War' or 'Pirates of the Caribbean'.
One of the most loved Romanian theatre and film actor and Director of the Comedy Theatre in Bucharest, George Mihăiţă has an impressive career spanning over the last 40 years.
'You don't lough out loud at this show: it raises smiles, stirs emotions, provokes thoughts and maybe a few tears. It is an elegantly directed performance of an elegantly written play, that touches the spectator powerfully but yet without violence, shattering his expectations and his beliefs. A good and truthful performance that warms the hearts of the audience.' - Oana Stoica, Dilema Veche
When: 20 June, 3pm
Where: Leicester Square Theatre, 6 Leicester St, London, WC2H 7BX
Tickets: £12,50 – student concessions; £20 – general admission.
Book your tickets HERE