An Easter Rejoice: Adela Liculescu at St Martin-in-the-Fields
06/04/2015 @ St Martin-in-the-Fields, Trafalgar Square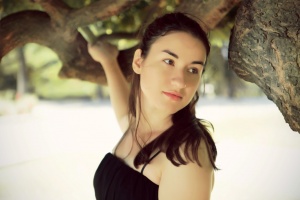 Piano rising star Adela Liculescu joins our popular series at St Martin-in-the-Fields with a recital bursting with youthful vigour and panache. The programme opens with George Enescu's hypnotic 'Pavane' from the Piano Suite, Op. 10, and also features Franz Liszt's Sonata in B minor, S 178 and 'La Valse' by Maurice Ravel.
Adela Liculescu was born in Craiova, Romania, in 1993 and started to play the piano at the age of four. She graduated with the highest degree from the High School of Music and Arts 'Marin Sorescu' in Craiova and is currently studying piano performance at the University of Music and Performing Arts in Vienna. Adela won first-prize at several piano competitions such as Elena Rombro-Stepanow Piano Competition Vienna (2012) or the Carl Filtsch Piano Competition in Sibiu (2009, 2006, 2003). She was also a prize-winner at the International Beethoven Piano Competition Vienna (2013), Svetislav Stancic Piano Competition Zagreb (2014), Karlovac Piano Competition (2014). Most recently, she was awarded the special prize for the best qualified Romanian pianist at the George Enescu International Competition Bucharest (2014). Adela has appeared on prestigious stages like Berlin Philharmonic – Kammermusiksaal, Munich Philharmonic – Gasteig, Musikverein Vienna – Brahms Saal, Romanian Athenaeum Bucharest, Palace Hall Bucharest – Auditorium, Palazzo Albrizzi Venice and many more. She has worked with conductors Horia Andreescu, Raphael Haeger, Tiberiu Soare, Romeo Râmbu, among others. An active chamber musician, she has taken part in several chamber music projects (Sonoro in Italy, Aurora in Sweden), along with artists like Diana Ketler, Alexander Sitkovetsky, Corinne Chapelle, Natalia Lomeiko, Răzvan Popovici, Erich Oskar Hütter, Julian Arp etc. After winning the First Prize at the competition 'Orange Prizes for Young Musicians', she played a duo in the gala concert with the Italian violonist Domenico Nordio. She also performed piano four-hands with the pianist Mirabela Dina in the gala concert 'Mirabela Dina and her guests' at the Oltenia Philharmonic, Romania. Many of her performances were broadcasted on radio and television in Romania and abroad.
When: Monday, 6 April, 1pm
Where: St Martin-in-the-Fields, Trafalgar Square, London
This lunchtime concert is free and no ticket is required.