The Gift of Music
25/03/2014 @ Queen's Chapel of the Savoy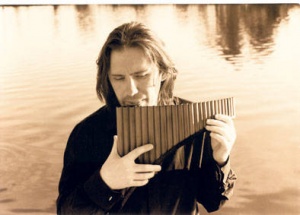 We are proud to be associated with the admirable work of Hospices of Hope by supporting the musical event that, accompanying their campaign, will make generosity the most prized virtues of them all. Climb Savoy Hill to the breath-taking Queen's Chapel on the 25th of March and enjoy the ancestral, essential consonance of the pan pipes with Nicolae Voiculeț, a protege of world famous Gheorghe Zamfir. The event also features soprano Eliana Pretorian and organist Paul Leddington Wright.
Nicolae Voiculeţ started playing the pan pipes when he was twelve and studied with renowned Romanian musician Gheorghe Zamfir. With his unmistakable talent, Voiculeţ has transformed the pan pipes into a sophisticated solo instrument, capable of playing an enormous musical repertoire, from Baroque concertos, popular themes, to his own compositions written for the pipes and accompanied by the piano, organ, chamber or full orchestra. With his magic flutes, Nicolae Voiculeţ has crossed boundaries breathing new life into classical, popular, ethnic, new age, jazz, world music, and sacred works and thrilling audiences in concerts in numerous countries from Japan to Italy, the UK, China and Austria, from Germany to France, Thailand, Spain, Scandinavia, South America, and as far as Australia.
Paul Leddington Wright is a British conductor, organist, composer and arranger, whose lifelong love of sacred and classical music has always been matched by his passion for musical theatre and opera. Over 25 years of work for BBC radio and television have seen countless collaborations with an eclectic mix of people, involving numerous musical genres in often challenging locations. He is equally at home in the orchestra pit or on a Cathedral organ bench, and enjoys working with youth and adult choirs as much as with amateur and professional orchestras.
Romanian soprano Eliana Pretorian came to London in 2001 with a canto scholarship at the Royal College of Music kindly supported by the Sacher Trust, The Wall Trust and Mr. and Mrs. Hayes Scholarship Award. After graduating this prestigious music school she continued her education at the National Opera Studio. Eliana's outstanding potential was recognized by Glyndebourne Festival Opera with whom she made her company debut in 2009 as Giannetta ('L'elisir d'amore') under Maurizio Benini. With Glyndebourne on Tour she has appeared as Papagena ('Die Zauberflöte'), Dew Fairy ('Hänsel und Gretel'), Karolka ('Jenůfa'), and Zerlina ('Don Giovanni'). Other roles include Despina ('Così fan tutte') for Longborough Festival Opera, and Susanna ('Le nozze di Figaro') for English Touring Opera. Eliana also has a stunning concerts and recitals career, singing Handel's 'Messiah' with The Philadelphia Orchestra and London Chamber Orchestra under Christopher Warren-Green and performing at prestigious venues such as St. John's Smith Square, St Martin-in-the-Fields or Beaminster Festival. She was awarded a series of prizes including the Independent Opera Award, Sybil Tutton Award, Georg Solti Academy scholarship to study with Dame Kiri Te Kanawa, The Concordia Foundation Berthel Prize Award and the Graziella Sciutti Prize for the most promising young singer.
Hospices of Hope is the leading palliative care charity in South Eastern Europe, seeking to improve quality of life for the terminally ill and their families in Romania, Serbia, Moldova and other countries in the region through increased provision of and access to palliative care services and training.
When: 25 March, 7pm
Where: Queen's Chapel of the Savoy, Savoy Hill, London WC2R 0DA
£25 to include interval drinks. For more information or to buy your tickets enter here.