Fashion Exhibition: 'Beauty in the Making'
12 - 21/02/2014 @ ICR London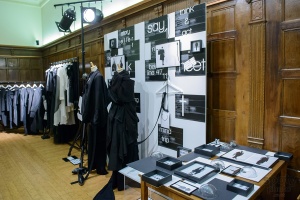 LATEST NEWS: Out of 146 designers from 25 countries exhibiting at the International Fashion Showcase, Lucian Broscățean has been granted a Special Mention at the Emerging Talent Awards
We are delighted to announce our fourth consecutive participation at the London Fashion Week, a cityscape of the world's highest profile designer showcases. This year's event, highlighting young creative talent driven by an unconventional sartorial style, brings together four rising stars of Romanian fashion design. Internationally-acclaimed designers Cristina Sabaiduc, Lana Dumitru, Ioana Ciolacu and Lucian Broscăţean present their daring forays into cuts, forms and fabrics, inviting the viewer to step into their reimagined studios and explore beauty in the making.
The exhibition is part of the British Council and British Fashion Council's International Fashion Showcase at the London Fashion Week 2014, and is made in collaboration with Harper's Bazaar Romania, with the support of the Romanian Embassy in the UK.
Born in Romania, Cristina Sabaiduc grew up in Switzerland and Canada, earning her BA in Design from the Ryerson University in Toronto. Inspired by the coexistence of natural and industrial elements in our environment, Cristina combines feminine silhouettes and innovative textiles to create her eponymous womenswear label. After working in Toronto, New York, and Paris, including an internship at Carolina Herrera and a position assisting Jeremy Laing, Cristina settled in London and launched her own brand with a 2012 presentation as part of London's "Off-Schedule" fashion week. She has since earned praise for her unconventional presentations, which have included a 3D film screening and a gallery exhibit-turned-catwalk show.
Born to architect parents in the city of Iaşi, Romania, Ioana Ciolacu followed in her parents' footsteps and enrolled at the "Ion Mincu" University of Architecture and Urbanism, which she graduated from in 2010, and then furthered her studies in Fashion Design at the University of Arts in Bucharest. Drawing inspiration from her extensive training as both an architect and a fashion designer, she developed a personal and unique style exploring the relationship between the static nature of buildings and the fluid structure of outfits, and blurring the line between luxury and street walk in each of her collections. Ioana was rewarded with prizes in national and international competitions, and, in 2013, she won the "Designer for Tomorrow" Fashion Talent Award hosted by Stella McCartney, while still a student at the London College of Fashion.
Lana Dumitru is a very young Romanian fashion designer, and a recent graduate who is currently researching for her PhD in Arts and Fashion. One can consider Lana to be an artist manifesting her beliefs through fashion. After having published many awarded poetry books during her childhood and teenage years, she showcased her artistic manifesto in two design creations that took blogs and newspapers around the world by storm: "The Facebook Dress "(included by notorious sites in the 2012 Top Trends) and "The Etno Dress". Currently she is the first Romanian designer to officially collaborate with Puma, and have her very own custom print on a Puma jacket.
Lucian Broscăţean has graduated from the BA and MA Fashion Design Course at the University of Art and Design in Cluj-Napoca. Since his debut collection "Nomadic Symptoms" in 2008, he has been exploring different avenues of present-day fashion, creating dark, conceptual, hybrid, unisex items which tell stories about different contemporary lifestyles. Winner of several national and international awards, Lucian has participated several times at Mercedes-Benz Berlin Fashion Week and at London Fashion Week - International Fashion Showcase 2013 with his own collections and with the main line conceived for Romanian label Irina Schrotter. Mobility, nomadic lifestyles, versatility, and heterotopic spaces are some of the seminal zones that he explores.
When: Preview Wed February 12, 7-9 pm. The exhibition is open until 21 February, Mon-Fri, 10 am – 5 pm
Where: Romanian Cultural Institute, 1 Belgrave Square, London SW1X 8PH
Free entrance.
Photo credit: Răzvan Dănăilă