Romanian Cultural Days in Reykjavik
06 - 13/10/2013 @ Reykjavik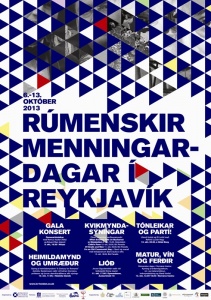 Romanian Cultural Days in Reykjavik is a festival of discovery. We are proud to present a wonderful range of events, featuring acclaimed artists and intellectuals as well as the best of Romanian classical and contemporary music, film, spoken word, wine & cuisine. Our guests include highly praised musicians Remus Azoitei and Eduard Stan, film director Stere Gulea, historian Adrian Cioroianu, poet Doina Ioanid, flamboyant saxophonist and DJ Lucian Nagy and his Triolectric band, and wine guru Bogdan Meica of Davino winery. Join us for seven unforgettable evenings of thrills and spills!
The Romanian Cultural Institute London would like to thank the following partners: the Embassy of Romania to the Kingdom of Denmark and the Republic of Iceland, the Honorary Consulate of Romania in Reykjavik, the Romanian National Tourism Office, and Davino Wines, as well as to the local supporters: Hotel Holt, RIFF, Nordic House, Dill Restaurant, Hotel Borg, Eymundsson, Reykjavik Reads Festival, HARPA, University of Iceland, Háskólabíó, Bíó Paradís.
Programme
Gala Concert, Wed 9 Oct, 19.30, HARPA, Kaldalón Hall
Acclaimed virtuosos Remus Azoitei (violin) and Eduard Stan (piano) open the Romanian Days in Reykjavik with a Gala Tribute to Enescu and Fauré. The musicians recorded the complete works for violin and piano by George Enescu, an authoritative world premiere project released by Hänssler Classic on 2 CDs in 2007/08.
Introductory remarks by the Ambassador of Romania to the Kingdom of Denmark and the Republic of Iceland, the Director of the Romanian Cultural Institute in London, and the Honorary Consul of Romania to Reykjavik. Please write to reykjavik@icr-london.co.uk if you want to attend.
Film
Witty comedies, edge-of-your-seat dramas, a global premiere and a special meeting with celebrated director Stere Gulea, in a showcase of the most exciting Romanian films of this year.
When Evening Falls on Bucharest or Metabolism | Dir: Corneliu Porumboiu | 6 Oct, 15.00, Háskólabíó. Tickets.
Child's Pose | Golden Bear 2013 | Dir: Călin Peter Netzer | 10 Oct, 20.00, Bíó Paradís. Tickets.
Of Snails and Men | Dir: Tudor Giurgiu | 11 Oct, 20.00, Bíó Paradís. Tickets.
I'm an Old Communist Hag + Director Stere Gulea Q&A | 12 Oct, 18.00, Bíó Paradís. Tickets.
Doc & Talk, Thu 10 Oct, 17.00, University of Iceland, Askja building (room N-132), Sturlugötu 7
Romania's former Minister of Foreign Affairs, historian Adrian Cioroianu and Prof. Ástráður Eysteinsson discuss crucial moments of Romania's contemporary history. The talk is preceded by the screening of "A Century for Romania", a vivid depiction of 100 years of challenges, setbacks and triumphs. Free.
Poetry, Fri 11 Oct, 17.00 at Eymundsson, Austurstraeti 18
Renowned poet Doina Ioanid joins broadcaster Jórunn Sigurðardóttir to examine the pleasures and pains of poetry as a late-blooming love. She will read from her critically acclaimed collections "The Marzipan Damsel" and "Drumbeats for Taming the Hedgehog Sow" amongst others. The event is part of the Reykjavik Reads Festival hosted by Reykjavik UNESCO City of Literature, dedicated this year to poetry in the city under the title "Poems on the Way". Free.
Music & Party, Sat 12 Oct, 20.30, Hotel Borg
The volcanic Romanian band Triolectric make their Icelandic debut with a hearty electro-Balkan blend. Fuel your dance moves with a glass of Romanian plum brandy. Free.
Lucian Nagy - saxophone & flute
Stefan Olariu - trumpet
Claudiu Buna - percussion
DJ set & visuals - Lucian Nagy & Triolectric
Food, Wine & Travel: Romanian Day at the Nordic House, Sun 13 Oct, 12.00-18.00
From Transylvania's unspoilt landscapes to the Black Sea's sunny beaches, Romania is an amazing place to discover. Sample the finest food & wine traditions and see fabulous footage of Wild Carpathia... all with a touch of fiery live music! Free.
12.00-15.00: Romanian lunch at Dill Restaurant
15.00-17.00: Food and wine tasting
Tasting of prestigious Davino wines, presented by wine guru Bogdan Meica
Food sampling (cheeses, meats, traditional dishes)
Tourism opportunities and presentations by the Romanian Tourism Office in London
Live concert with Triolectric.
17.00: Special screening of the most beautiful cinematic travelogue about Romania, "Wild Carpathia".