Mircea Diaconu and Alexandru Repan, two sacred monsters of Romanian theatre, join West End's star-studded theatrical community
13/07/2013 @ Leicester Square Theatre, 6 Leicester St., London, WC2H 7BX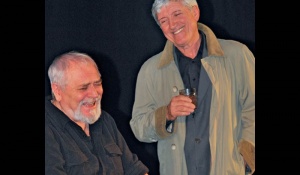 Catch the one-off performance of Eric Emmanuel Schmitt's bitter-sweet Enigma Variations, starring two of the greatest Romanian theatre actors, Mircea Diaconu and Alexandru Repan, and join us in the celebration of Romanian language and thespian excellence.
Evasions and lies twist into increasingly complex puzzles as two men, an acclaimed author and an apparently bland journalist, find themselves in love with the same woman. Brought face to face by the intricacies of love, how will their worlds collide? A riveting contest of wit and wills, a battle of gut and nature, a bitter-sweet infusion of humour and longing, Enigma Variations brings to the fore two powerhouses of the Romanian theatre scene.
Enigma Variations
by Éric Emmanuel Schmitt
Cast: Eric Larsen – Mircea Diaconu and Abel Znorko – Alexandru Repan
Directed by Claudiu Goga
Set design by Sică Rusescu
Music by George Marcu
Enigma Variations will have a single performance in London, on Saturday 13th July at 3pm, at Leicester Square Theatre.
Please note the production will be performed entirely in the Romanian language without English surtitles.
Enigma Variations is the second production in the series "Tales Told in Romanian", which enables Romanian audiences living in London and the surrounding areas to encounter the best of the country's theatre, actors and performances, inspired by classical and contemporary literature and drama, both native and universal. The project is an initiative by Claudia Cîrlig, developed in collaboration with ICR London.
When: Saturday, 13 July 2013, 3 pm
Where: Leicester Square Theatre, 6 Leicester St., London, WC2H 7BX
Tickets: £12 - early bird tickets; £ 17; £ 7 - student concessions. Book your tickets
HERE