A Summer's Modernist Venture - The Hirvi Quartet & Friends
18/06/2022 @ Romanian Cultural Institute, 1 Belgrave Square, London SW1X 8PH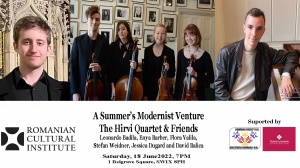 Drift away with delightfully unpredictable, original and rare performances performed by youbng and talented musicians David Bălică, Leonardo Badila, Enya Barber, Floora Valila, Stefan Weidner and Jessica Dugard. The concert includes a selection of works by renowned composers and a series of original compositions signed by David Bălica, a rising British-Romanian composer.
As a note of originality, the musicians have different nationalities: Leonardo Badila (Italy), Enya Barber (Great Britain), Floora Valila (Belgium), Stefan Weidner (Great Britain), Jessica Dugard (Great Britain), David Balica (Romania and Great Britain).
Hans Werner Henze - Mistica
Franz Liszt - Transcendental etude no 8
David Bălica - A Recent Venture into Wonderous Minds
Philip Glass - String Quartet no. 2
Dvorak - Movements 1 and 4 from 'American Quartet'
David Bălica - 'Zakkarpatia' String Quartet
The Hirvi Quartet was formed in 2021 and consists of Enya Barber (violin), Congling Wu (violin), Leonardo Badila (viola) and Floora Valila (cello). Combining a broad range of musical experiences and trainings from their respective home countries, they play some of the greatest music of the classical canon as well as collaborating with contemporary composers. The young musicians have had the privilege to have already given many successful performances, such as at the Queen's House in Greenwich and Wigmore Hall. The Hirvi Quartet have also had the great opportunity of receiving coaching from many world-class musicians, including members of the Piatti, Carducci and Smith quartets. Being in their second year of study at the Trinity Laban Conservatoire of Music, they are looking forward to many more projects and performances during college and beyond.
Stefan Weidner is a 2nd year Piano student at Trinity Laban Conservatoire studying with Professor Douglas Finch.
David Balica is an up and coming Romanian British composer and musician. He currently studies Composition and Classical Singing at Trinity Laban Conservatoire of Music and Dance, under the tutorage of renowned composers Edward Jessen, Sam Hayden and Dominic Murcott.
The concert will be recorded and broadcast live, on our Facebook and YouTube channel
When: Saturday, 18 June 2022, 7PM
Where: Romanian Cultural Institute, 1 Belgrave Square, London, SW1X 8PH.
The event is in partnership with Transylvanian Edition & Romanca Society.
Entrance is free but we kindly request you to book your ticket on Eventbrite. Please note that seating is unreserved
Please note that seating is unreserved.