Brâncuși around the world
19/02/2022 @ Online, Social Media RCI London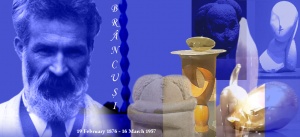 We are celebrating today Constantin Brâncuși, Romanian sculptor, painter and photographer considered one of the most influential artists of the 20th-century and a pioneer of modernism. This journey explores the essence of Brâncuși from Tate Modern in London in a rediscovery of the iconic artist through the eyes of Matthew Gale, Senior Curator at Large, curator of the 2004 Tate exhibition.
Brâncuși around the world is an ArtSociety initiative, by Art Safari in collaboration with the Romanian Cultural Institute in London.
Constantin Brâncuși's art emphasizes clean geometrical lines and his inspiration is to be found in non-European cultures as a source of primitive exoticism, as did Paul Gauguin, Pablo Picasso and André Derain. Other influences emerge from Romanian folk.
Brâncuși grew up in area known for its rich tradition of folk crafts, the village of Hobiţa, Gorj. Between 1894 - 1898 he attended the Craiova School of Arts and Crafts. He enrolled in the Bucharest School of Fine Arts, where he received academic training in sculpture. In 1903, Brâncuși left to Munich, and from there to Paris where he worked for two years in the workshop of Antonin Mercié of the École des Beaux-Arts, and was invited to enter the workshop of Auguste Rodin. After leaving Rodin's workshop, Brâncuși began developing the revolutionary style for which he is so well-known.