Sparkling Musicians Daniel Ropotă and Carina Udriște: An Explosion of Youthful Verve at RCI London
06/11/2021 @ Romanian Cultural Institute London, 1 Belgrave Square, SW1X 8PH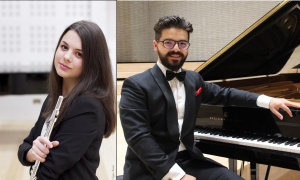 The November concert in our acclaimed Enescu Series brings together two outstanding young musicians: pianist Daniel Ropotă and flutist Carina Udriște in a celebration of the eponymous composer and Sergei Prokofiev. The concert will be also broadcasted for our online audiences on 11 November, 2021, from 7 PM on our Facebook page and Youtube channel.
Programme:
George Enescu: Toccata from Piano Suite no.2 op.10
Sergei Prokofiev: Sonata for Flute and Piano op.94
Sergei Prokofiev: Piano Sonata no.7 op.83
George Enescu: Cantabile et Presto for Flute and Piano
Daniel Ropota is a Romanian pianist based in Manchester, UK. A graduate of the Royal Northern College of Music, he is currently in his final year of the Master of Music course at the RNCM with professor Kathryn Stott as his principal study tutor. His past years are marked by a total of twenty four prizes from various piano competitions spanning countries such as Romania, Italy and Hungary and over fifty solo, orchestra and chamber music recitals. In 2013, he was awarded by the Education and Training Inspectorate from his hometown in recognition of his contribution to the reputation of the city of Iasi (Romania), through gaining exceptional results at national and international competitions. In 2018 he made his London debut at St. Martin in the Fields, invited by the Romanian Cultural Institute. He concluded his undergraduate studies with a concert at The University of Manchester where he performed George Gershwin's Rhapsody in Blue with Gorton Phiharmonic Orchestra.
Carina Udriște is currently majoring in flute at the Royal College of Music London where she studies with Susan Milan and Emer McDonough, kindly supported by Help Musicians UK and The Kathleen Trust. Before furthering her studies in the United Kingdom, Carina received the Ion Vidu prize from the National College of Art Ion Vidu for winning multiple competitions in Hungary, Serbia and her home country, Romania. In 2017 she was awarded the Excellence Award by The International Society for Musical Studies and the first prize in the flute section of the National Romanian Music Competition. In 2019, she was awarded a scholarship to perform at the British Isles Music Festival and was a finalist in the RNCM Concerto Competition in both years 2020 and 2021. She has also played side-by-side with Manchester Camerata. Other orchestral appearances include playing with the RNCM Symphony and Concert orchestras, RCM Philharmonic Orchestra, the Chamber Orchestra of Manchester, Manchester Light Orchestra and Arad State Philharmonic. Carina is an active chamber musician, co-founder of the Quora Flute Quartet, with which she was the recipient of both the RNCM June Emerson Launchpad prize and the Fewkes Chamber Prize in 2020. Quora regularly perform throughout the North-West of England and were the first flute quartet to perform in Manchester Cathedral.
When: 6 November, 2021, 7 PM
Where: Romanian Cultural Institute London, 1 Belgrave Square, SW1X 8PH
Entrance is free but we kindly request you to book your ticket on EVENTBRITE. Kindly book only if you are certain to attend and release the seats.
Please note that seating is unreserved.