"Land of Plenty" - solo show by Cătălin Bădărău
12/10 - 22/11/2021 @ Romanian Cultural Institute, 1 Belgrave Square SW1X 8PH, London.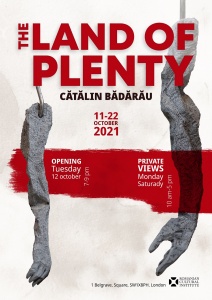 Cătălin Bădărău's "Land of Plenty" evokes a utopian space, a promised land that we incessantly aim to and all the perpetual struggle, the dislocations and relocations of populations, the individual and collective sacrifices made in the name of it. The show reflects both the artist's experience as a teenage migrant worker and his formative years while working with his father, a carpenter and upholsterer, in jobs that value the efficiency of the hands in the working process above all.
Iterating the human hand as a powerful symbol, ultimately as an expression of artistic freedom, but at the same time as a metonymy for the oppression, forced labour, suffering and alienation in spaces where one is dehumanized and reduced to means of production, Cătălin Bădărău invites us to take a look at an uncomfortable truth: those who are vulnerable will be preyed upon by those who are not.
Opening: 12 October, 2021, from 7 PM, in the presence of the artist
A material that I feel very close to is silicone. I am interested in the similitude between silicone and human flesh and I use graphite as a symbol of the minimum resistance, graphite occupying the lowest position on the Mohs scale of element resistance. To emphasize the characteristics of silicone and graphite I often feel the need to add materials with opposing features like iron. Sometimes, my works become complex installations that include other materials or elements such as water, salt, water pumps, motors, power transformers, glass, ice and metallic wires. I used to work as a carpenter and upholsterer with my father. Because of this experience, I tend to work with silicone characters the way I used to work with upholstery materials. I place the silicone characters on various surfaces, I nail them down or tie them with ropes in order to make them take the shape I want them to take. (Cătălin Bădărău)
Cătălin Bădărău is a renowned Romanian artist who lives and works in Bucharest. He has a PhD in Fine Art from the National University of Arts, Bucharest and his portofolio includes several solo and goups shows: 2021 'Puls 20' - group show, Kunsthalle Bega, Timișoara, Romania, 2020, '12 Years After. A Survey of Romanian Art in 180 works' group show, The National Museum of Contemporary Art of Romania, Bucharest, 2019, 'See, I have engraved you on the palms of my hands; your walls are ever before me', solo show, Mobius Gallery , 'Brain fog', group show, Laborna Gallery, Bucharest.
When and Where:
Opening: 12 October, 7 PM, please confirm your attendance here: EVENTBRITE
Exhibition: 12-22 October | 1 Belgrave Square, SW1X8PH | Monday-Friday, 10 am-5 pm |