Performance: Why the Child Is Cooking in the Polenta
14 - 15/11/2020 @ online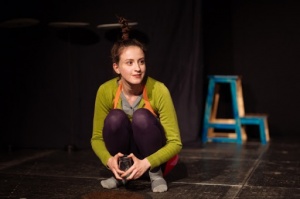 Immediately after the Romania Rocks literature festival, we invite you to a touching one-woman show inspired by the autobiographical novel of the brilliant and tragic figure Aglaja Veteranyi. Led by director Dana Paraschiv and starring the gifted Edith Alibec, the show is based on Veteranyi's amazing experiences and allows for a memorable voice that it at once lyrical and jaded, mundane and spiritual, comical and ghastly.
A nomadic family of circus performers, refugees from communist Romania, travels through Europe and Africa by caravan. The mother's death-defying act causes constant anxiety for her two daughters, who voice their fears through a grisly communal fairy tale about a child being cooked alive in polenta—but their real life is no less of a dark fable and one that seems just as unlikely to have a happy ending.
"A show as it should be: dense, poetical, very visual. No word is too much, no minute is too long." (Cătălin Dorian Florescu)
Edith Alibec witnessed the refugee crisis in Germany first-hand, as she met with refugees and visited their social camps. Her adaptation seeks to highlight the vulnerability in being forced to leave home and trying to find a new place in the world. It explores what it is to feel foreign and isolated and how it feels when the place you live in does not let you feel like you belong: "I lived in Germany for three years, and in the first few months I did not find my place and I started to idealize a "home". Romania, my home country, became more like a utopia. At the same time, the refugee crisis in Germany grew and I wondered how it must feel for them. I mean, it's a choice for me to live in a foreign country, I chose to do that, but they're being forced to flee their home and live in a foreign country, exactly like the play's heroine. This show was born out of my need to talk about what does it feel like to not have a home. Far from being an ideological statement, this show is about being human and explores the hidden corners of the soul."
Why the Child Is Cooking in the Polenta
By Aglaja Veteranyi
Adapted for the stage by: Dana Paraschiv and Edith Alibec
Directed by: Dana Paraschiv
With: Edith Alibec
The show is performed in English and runs for approximately 1 hour.
When: for two days only on 14-15 November 2020
Where: online | on this page, on RCI London's Facebook page and on YouTube channel