The Bednarski String Quartet in the Enescu Series
03/12/2020 @ online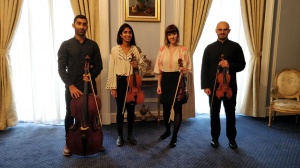 The December concert of our prestigious long-running Enescu Series will feature the Bednarski String Quartet: Andrea Montalbano (violin I), Ana Popescu Deutsch (violin II), Kesari Pundarika (viola) and Anil Umer (cello).
They are presenting an exceptionally long and thematically complex work, Enescu's String Quartet No. 1 Op.22, in E flat major, in which the composer transmutes traditional structures. This quartet, written in 1918, demands a great deal from the listener, ranking among the most difficult works of the illustrous composer.
The Bednarski Quartet was formed by four members of Southbank Sinfonia at the end of 2018. They subsequently held a series of live concerts in St. James's Church, Paddington and St. Mary's Church, Aylesbury. During the recent lockdown period, they held various performances as part of online festivals. The quartet focuses mainly on established composers (such as Joseph Haydn or Anton Webern), as well as contemporary music written by female composers such as Ethel Smyth or Rebecca Clarke or repertoire inspired by folk music including George Enescu and Bela Bartok.
Andrea Montalbano began studying the violin at the V. Bellini Conservatory in Palermo in the class of Professor Umberto Bruno. He studied with renowned violinists and teachers, including Silviu Dima, Stefano Pagliani, John Crawford, Ofer Falk. He freelances with numerous orchestras, including the BBC Scottish Symphony Orchestra, Bournemouth Symphony Orchestra, City of Birmingham Symphony Orchestra, etc. Since September 2014, he has been the leader of the London Euphonia Orchestra, and since 2017 he has been a member of Southbank Sinfonia in London. He is a founder of the Tamesis Piano Trio, along with cellist Urska Horvat and pianist Francesca Fierro. He is also a passionate violin teacher, and his main goal is to instil his students the love for music.
Ana Popescu Deutsch was born in Satu Mare and began studying music at the George Enescu Music High School in Bucharest, and later at the Royal Academy of Music in London, completing both her bachelors and masters degrees. She was a member of the European Union Youth Orchestra, touring both Europe and America. She has performed on stages such as the Konzerthaus Berlin and Carnegie Hall in New York alongside Itzhak Perlman. Later she played with Pro Youth Philharmonia, Hampstead Garden Opera, Light of Music Ensemble and in 2018 she became a member of Southbank Sinfonia. She is very passionate about Transylvanian folk music and its influences on the works of Hungarian and Romanian composers in the region.
Born in the United States, Kesari Pundarika began playing the viola when her family moved to London. After graduating from Tufts University, USA, she returned to London to study with Ian Jewel at the Royal College of Music and with Martin Outram at the Royal Academy of Music. In 2017 she became a member of Southbank Sinfonia. During this time she has played live on BBC Radio 4, has collaborated with the Academy of St Martin in the Fields and has played under the baton of conductors such as Mark Wigglesworth and Edward Gardner. She has also taken part in the Anghiari Festival in Italy, the London Handel Festival and the London Jazz Festival.
Anil Umer is a freelance cellist. After having to temporarily give up performance due to a shoulder injury, Anil now likes to work with musicians and athletes to help them in their own recovery. A graduate of Exeter College Oxford, Anil received a full postgraduate scholarship from the Royal Academy of Music and studied with Josephine Knight and Mats Lidstrom. Anil received the David Poznanaski Quartet Award and has worked with orchestras such as the Oxford Philharmonic, the Brighton Philharmonic and the London Philharmonic Chamber Orchestra.
When: 3 December 2020, 19:00
Where: online (prerecorded) on RCI London's Facebook page and YouTube channel
The concert was recorded on 27 November 2020 in the Enescu Concert Hall, Romanian Cultural Institute London.